High Nickel Alloy Flanges
ANSI B16.5 Pipe Flanges, High Nickel Alloy Flanges Supplier, Nickel Alloy Slip-on Flanges, Monel Alloy Orifice Flanges, Inconel Alloy Flanges, Inconel 600 Blind Flanges Exporter, Nickel 200 Threaded Flanges Manufacturer
Monel 400 Plate Flanges, Monel K500 Spectacle Blind Flanges, Nickel 625 SORF/WNRF Flanges, Inconel 601 Lap Joint Flanges, Nickel 400 Flanges, Hot Rolled (HR) Nickel Alloy Nipo Flanges, Hastelloy Alloy Flanges
The connection between the two pipes can be established by using flanges. Flanges are one of the pipe fittings used to connect one pipe with another, pipe to a tee, valve, chock, and other equipment. Sonic Steel is top manufacturer, leader and supplier of High Nickel Alloy Flanges with the full range of various materials and pressure class.
Nickel Alloy Flanges offer broadly solubility ranges and has a wide range of applications like heat exchangers, petrochemical, valves, oil platforms, and pressure vessels and mining, etc. We offer these flanges in various material grades such as 200 Nickel Alloy Flanges, 201 Nickel Alloy Flanges, 625, 400, 800/800H, and 825 Nickel Alloy Flanges, etc.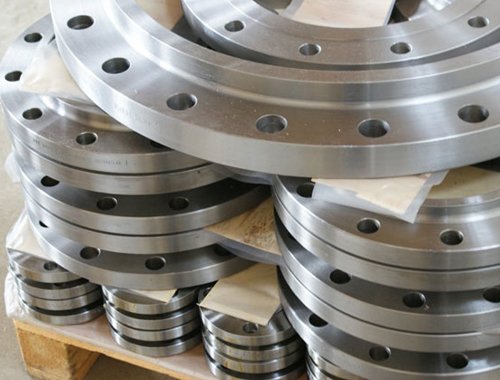 Monel Pipe Flanges manufactured using high-quality raw materials which offer high strength and toughness at high elevated temperatures. There are different types of flanges available with us, include Monel 400 Slip-on flanges, Monel K500 Weld Neck Flanges, Monel Alloy Raised Face Flanges, Orifice Flanges, Lap Joint Flanges, Reducing Flanges, Blind Flanges and many more.
Inconel Pipe Flanges are other types of high nickel alloy flanges that offered in different material grades such as Inconel 600 Weld Neck Flanges, Inconel 601 Alloy Pipe Flanges, Inconel 625 Slip-on Flanges and Inconel 718 RTJ Type Flanges. Our Hastelloy Pipe flanges are more popular among our existing customers. We provide Hastelloy flanges in finest material grades C22, C276, B3, and B2. Please give us a call to buy these flanges at most affordable prices.
Inconel 201 RTJ Flanges, Nickel 201 Raised Face Flanges, Inconel 718 Alloy Flanges, Monel 400 Lap Joint Flanges, High Nickel 800/800H Round Bars, Hastelloy C276 Weld Neck Flanges, Hastelloy C22 Pipe Flanges, Hastelloy B2 Blind Flanges, Hastelloy C22 Flanges Supplier
Specifications:
| | |
| --- | --- |
| Grades | Nickel 200, Nickel 201, Monel 400, Monel K500, Inconel 600, Inconel601, Inconel 625, Inconel 718, Incoloy 800 / 800H / 800HT, Incoloy 825, Hastelloy C22, Hastelloy C276, Hastelloy B2, Hastelloy B3, Hastelloy X |
| Specifications | ASTM B564 / ASME SB564 |
| Size | 1/2″NB TO 60″NB |
| Standards | ANSI/ASME B16.5, B 16.47 Series A & B, B16.48, BS4504, BS 10, EN-1092, DIN, etc |
| Class / Pressure | 150#, 300#, 600#, 900#, 1500#, 2500#, PN6, PN10, PN16, PN25, PN40, PN64 etc |
| Standard | ANSI Flanges, ASME Flanges, BS Flanges, DIN Flanges, EN Flanges, etc |
High Nickel Alloy Flanges Updated Price List:
Request the latest High Nickel Alloy Flanges List. Please click on the request a quote button or click here to request the updated price list and ready stock information along with your requirement. Sonic Steel maintains stock of all standard items and can export them at best price for High Nickel Alloy Flanges.
Exporting High Nickel Alloy Flanges to following countries
Afghanistan, Albania, Andorra, Austria, Bahrain, Bangladesh, Bhutan, Brunei, Belarus, Belgium, Bulgaria, Cambodia, China, Cyprus, Croatia, Czech Republic, Denmark, Estonia, Egypt, Finland, France, Germany, Greece, Georgia, Hungary, Iceland, Ireland, Italy, Indonesia, Iran, Iraq, Israel, Japan, Jordan, Kazakhstan, Kuwait, Kyrgyzstan, Lebanon, Latvia, Latin America, Liechtenstein, Lithuania, Luxembourg, Malta, Moldova, Monaco, Malaysia, Maldives, Mongolia, Myanmar (Burma), Nepal, North Korea, Netherlands, Norway, Oman, Poland, Portugal, Pakistan, Palestine, Philippines, Qatar, Russia, Romania, Russia, San Marino, Serbia and Montenegro, Slovakia, Slovenia, Spain, Sweden, Switzerland, Saudi Arabia, Singapore, South Korea, South Africa, Sri Lanka, Syria, Taiwan, Tanzania, Tajikistan, Thailand, Turkey, Turkmenistan, Ukraine, United Kingdom, United Arab Emirates (UAE), Uzbekistan, Vietnam, Yemen
High Nickel Flanges supplier in following cities
Mumbai, Delhi, Kolkata, Chennai, Bengaluru, Hyderabad, Ahmadabad, Pune, Surat, Jaipur, Kanpur, Lucknow, Nagpur, Ghaziabad, Indore, Coimbatore, Kochi, Patna, Kozhikode, Bhopal, Thrissur, Vadodara, Agra, Malappuram, Thiruvananthapuram, Kannur, Ludhiana, Nashik, Vijayawada, Madurai, Varanasi, Meerut, Faridabad, Rajkot, Jamshedpur, Srinagar, Jabalpur, Asansol, Vasai Virar City, Allahabad, Dhanbad, Aurangabad, Amritsar, Jodhpur, Ranchi, Raipur, Kollam, Gwalior, Durg-Bhilainagar, Chandigarh, Tiruchirappalli, Kota
Industries and applications where our High Nickel Flanges is used.
Chemicals, Petrochemicals, Oil & Natural Gas Organization, Fats, Fertilizers, Sugar Mills & Distilleries, Cement Industries, Ship Builders, Paper Industries, Pumps, Automation, Paints, Steel Industries, etc.
Other Flanges
Products List
Need Help?
Please Feel Free To Contact Us. We Will Get Back To You With 1-2 Business Days.
sales@sonicsteels.com
+91-9920964999