Stainless Steel Winged Seals & Clips
Most Recognized Supplier of Stainless Steel Winged Seals, SS Winged Clips Stockist, Stainless Steel Wing Seals, Stainless Steel Wing Clips Exporter, Wing Seals Stainless Steel, Stainless Steel Angle Wing Clips, SS Winged Seals Supplier
Type 201 Stainless Steel Winged Seals Supplier, 304 SS Winged Clips, Grade 316 Stainless Steel Winged Seals, Type 304 Stainless Steel Winged Seals & Clips Manufacturer, Stainless Steel 316 Winged Seals & Clips Exporter
Sonic Steel is one of the most prominent suppliers, exporter, and manufacturer of high-quality Stainless Steel Winged Seals and Stainless Steel Winged Clips in different dimensions, forms, and specifications. Adopting the highest industrial standards and using high-quality raw material we manufactured these SS Winged Seals and Clips.
Stainless Steel Winged Seals is a small piece of hardware that is used in many heavy-duty industries. These lightweight gauges used for banding purposes and fasten quickly and easily by banding tools. As they manufactured using stainless steel material they exhibit high corrosion resistance, good flexibility, and high breaking strength. We offered type 201 Stainless Steel Winged Seals, type 316 Stainless Steel Winged Seals and more.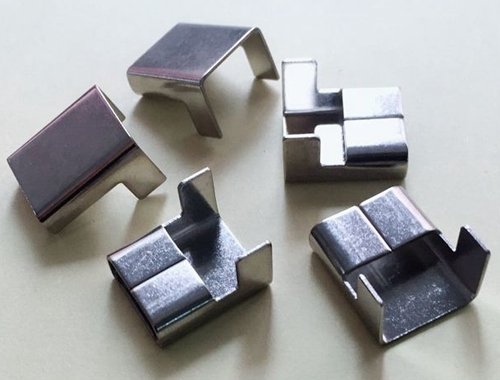 Industrial Strapping can be clubbed together by Stainless Steel Winged Clips or Buckles. For heavy-duty applications buckles are used but Stainless Steel Winded Clips can be used for light and medium-duty requirements. These SS Winged Clips commonly used to secure stainless steel strapping after tensioning of strapping. Both Stainless Steel Winged Seals & Clips are highly demanded as they offer reliable and easy to use banding.
These Stainless Steel Winged Seals & Clips offered in all international standards and customized dimensions as per client's requirements. Please give us a call if you want these winged seals and clips at most reasonable prices.
3/4 inch Stainless Steel Wing Clip Supplier, 1/2 inch Stainless Steel Wing Seals, 3/4 inch SS Winged Clips, 1/2 inch SS Winged Seals Stockist, Latest Price of Stainless Steel Winged Seals, Stainless Steel Winged Clips Price in India
Stainless Steel Winged Seals & Clips Specifications:
| | |
| --- | --- |
| Grades | Stainless Steel J1, J2, J4, 201, 202, 301, 304, 304H, 304L , 309, 309S, 310, 310S, 316, 316L, 316TI, 321, 321H, 347, 409, 410, 410S, 420, 430, 441, 904L |
| Size | 20mm |
| Range | 3/8″, 1/4″, 1/2″, 5/8″, 3/4″ |
| Thickness | 1 mm |
| Length | AS PER CUSTOMER'S REQUIREMENT |
| Type of Material | STAINLESS STEEL SOFT, DEEP DRAW, EXTRA DEEP DRAW, QUARTER HARD, HALF HARD,FULL HARD. |
Stainless Steel Winged Seals & Clips Updated Price List:
Request the latest Stainless Steel Winged Seals & Clips List. Please click on the request a quote button or click here to request the updated price list and ready stock information along with your requirement. Sonic Steel maintains stock of all standard items and can export them at the best price for Stainless Steel Winged Seals & Clips.
Exporting Stainless Steel Winged Seals & Clips to following countries
Afghanistan, Albania, Andorra, Austria, Bahrain, Bangladesh, Bhutan, Brunei, Belarus, Belgium, Bulgaria, Cambodia, China, Cyprus, Croatia, Czech Republic, Denmark, Estonia, Egypt, Finland, France, Germany, Greece, Georgia, Hungary, Iceland, Ireland, Italy, Indonesia, Iran, Iraq, Israel, Japan, Jordan, Kazakhstan, Kuwait, Kyrgyzstan, Lebanon, Latvia, Latin America, Liechtenstein, Lithuania, Luxembourg, Malta, Moldova, Monaco, Malaysia, Maldives, Mongolia, Myanmar (Burma), Nepal, North Korea, Netherlands, Norway, Oman, Poland, Portugal, Pakistan, Palestine, Philippines, Qatar, Russia, Romania, Russia, San Marino, Serbia and Montenegro, Slovakia, Slovenia, Spain, Sweden, Switzerland, Saudi Arabia, Singapore, South Korea, South Africa, Sri Lanka, Syria, Taiwan, Tanzania, Tajikistan, Thailand, Turkey, Turkmenistan, Ukraine, United Kingdom, United Arab Emirates (UAE), Uzbekistan, Vietnam, Yemen
SS Strip supplier in the following cities
Mumbai, Delhi, Kolkata, Chennai, Bengaluru, Hyderabad, Ahmadabad, Pune, Surat, Jaipur, Kanpur, Lucknow, Nagpur, Ghaziabad, Indore, Coimbatore, Kochi, Patna, Kozhikode, Bhopal, Thrissur, Vadodara, Agra, Malappuram, Thiruvananthapuram, Kannur, Ludhiana, Nashik, Vijayawada, Madurai, Varanasi, Meerut, Faridabad, Rajkot, Jamshedpur, Srinagar, Jabalpur, Asansol, Vasai Virar City, Allahabad, Dhanbad, Aurangabad, Amritsar, Jodhpur, Ranchi, Raipur, Kollam, Gwalior, Durg-Bhilainagar, Chandigarh, Tiruchirappalli, Kota
Industries and applications where our SS Strip is used.
Chemicals, Petrochemicals, Oil & Natural Gas Organization, Fats, Fertilizers, Sugar Mills & Distilleries, Cement Industries, Ship Builders, Paper Industries, Pumps, Automation, Paints, Steel Industries, etc.
Products List
Need Help?
Please Feel Free To Contact Us. We Will Get Back To You With 1-2 Business Days.
sales@sonicsteels.com
+91-9920964999