High Nickel Alloy Bars & Rods
ASTM B335 Hastelloy Bars & Rods, High Nickel Alloy Bars & Rods Supplier, Nickel Alloy Forged Bars & Rods, Monel Threaded Bars & Rods, Inconel Polished Round Bars & Rods, Inconel 600 Flat Bars & Rods Exporter, Nickel 200 Round Bars Manufacturer
Monel 400 Bars & Rods, Monel K500 Round Bars & Rods, Nickel 625 Square Bars & Rods, Inconel 601 Cold Drawn Bars & Rods, Nickel 400 Bars & Rods, Hot Rolled (HR) Nickel Alloy Bars & Rods, Hastelloy Square Bars & Rods
Sonic Steel is known to be a primary High Nickel Alloy Bars & Rods Supplier to various national and international customers. This high nickel alloy is mainly categorized into Nickel Alloy, Monel Alloy, Inconel Alloy, and Hastelloy. These bars & rods are available in different types, forms, material grades, dimensions, and specifications.
Nickel Bars & Rods offer excellent tensile strength, high heat resistance, and outstanding corrosion resistance. High nickel alloy bars & rods are widely used in several industrial applications like heat-treating baskets, pollution control, wastewater treatment plant and many more. We offer these bars & rods in various material-grades include 200 Nickel Bars & Rods, 201 Nickel Bars & Rods, 400, 625, 800, 800H, and 825, etc.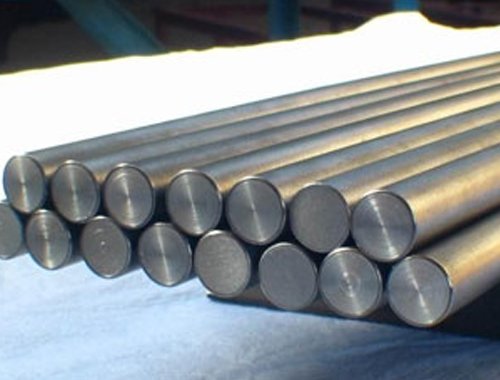 Monel Bars & Rods is another type of high nickel alloy, which is the trademark name of Special Metal Corporation. Similar to nickel alloy, they exhibit high corrosion resistance and high mechanical strength. We are specialists in offering Monel 400 Bars & Rods and Monel K500 Bars & Rods. Using the latest technology and high-quality raw materials, we also manufactured Inconel Bars & Rods in different forms such as Inconel 600/625 Round Bars & Rods, Inconel 601 Square Bars & Rods, and Inconel 718 Hexagonal Bars.
Our high-quality Hastelloy Bars & Rods have high demand and used in construction work and different other small and large projects. We also offered these bars & rods in various material grades including C22, C276, B2, B3, etc. Kindly contact us to learn more about High Nickel Alloy Bars & Rods. Our experts help you to build your application.
Inconel 201 Bars & Rods, Nickel 201 Rods, Inconel 718 Hot Rolled (HR) Bars & Rods, Monel 400 Square Bars, High Nickel 800/800H Round Bars, Hastelloy C276 Bars & Rods, Hastelloy C22 Bars, Hastelloy B2 Rods, Hastelloy C22 Bars & Rods Supplier
Specifications:
| | |
| --- | --- |
| Grades | Nickel 200, Nickel 201, Monel 400, Monel K500, Inconel 600, Inconel601, Inconel 625, Inconel 718, Incoloy 800 / 800H / 800HT, Incoloy 825, Hastelloy C22, Hastelloy C276, Hastelloy B2, Hastelloy B3, Hastelloy X |
| Specifications | ASTM B166 / ASTM SB166, ASTM B160 / ASTM SB160, ASTM B164 / ASTM SB164, ASTM B574 / ASTM SB574 |
| Dimensions | EN, DIN, JIS, ASTM, BS, ASME, AISI |
| Size | 5 mm To 500 mm |
| Diameter | 0.1 mm to 100 mm |
| Length | 100 mm To 3000 mm Long & Above |
| Finish | Black, Bright Polished, Rough Turned, NO.4 Finish, Matt Finish, BA Finish |
| Tolerance | H8, H9, H10, H11, H12, H13K9, K10, K11, K12 or as per clients' requirements |
| Form | Round, Square, Hex (A/F), Rectangle, Billet, Ingot, Forging Etc. |
High Nickel Alloy Bars & Rods Updated Price List:
Request the latest High Nickel Alloy Bars & Rods List. Please click on the request a quote button or click here to request the updated price list and ready stock information along with your requirement. Sonic Steel maintains stock of all standard items and can export them at best price for High Nickel Alloy Bars & Rods.
Exporting High Nickel Alloy Bars & Rods to following countries
Afghanistan, Albania, Andorra, Austria, Bahrain, Bangladesh, Bhutan, Brunei, Belarus, Belgium, Bulgaria, Cambodia, China, Cyprus, Croatia, Czech Republic, Denmark, Estonia, Egypt, Finland, France, Germany, Greece, Georgia, Hungary, Iceland, Ireland, Italy, Indonesia, Iran, Iraq, Israel, Japan, Jordan, Kazakhstan, Kuwait, Kyrgyzstan, Lebanon, Latvia, Latin America, Liechtenstein, Lithuania, Luxembourg, Malta, Moldova, Monaco, Malaysia, Maldives, Mongolia, Myanmar (Burma), Nepal, North Korea, Netherlands, Norway, Oman, Poland, Portugal, Pakistan, Palestine, Philippines, Qatar, Russia, Romania, Russia, San Marino, Serbia and Montenegro, Slovakia, Slovenia, Spain, Sweden, Switzerland, Saudi Arabia, Singapore, South Korea, South Africa, Sri Lanka, Syria, Taiwan, Tanzania, Tajikistan, Thailand, Turkey, Turkmenistan, Ukraine, United Kingdom, United Arab Emirates (UAE), Uzbekistan, Vietnam, Yemen
High Nickel Bars & Rods supplier in following cities
Mumbai, Delhi, Kolkata, Chennai, Bengaluru, Hyderabad, Ahmadabad, Pune, Surat, Jaipur, Kanpur, Lucknow, Nagpur, Ghaziabad, Indore, Coimbatore, Kochi, Patna, Kozhikode, Bhopal, Thrissur, Vadodara, Agra, Malappuram, Thiruvananthapuram, Kannur, Ludhiana, Nashik, Vijayawada, Madurai, Varanasi, Meerut, Faridabad, Rajkot, Jamshedpur, Srinagar, Jabalpur, Asansol, Vasai Virar City, Allahabad, Dhanbad, Aurangabad, Amritsar, Jodhpur, Ranchi, Raipur, Kollam, Gwalior, Durg-Bhilainagar, Chandigarh, Tiruchirappalli, Kota
Industries and applications where our High Nickel Bars & Rods is used.
Chemicals, Petrochemicals, Oil & Natural Gas Organization, Fats, Fertilizers, Sugar Mills & Distilleries, Cement Industries, Ship Builders, Paper Industries, Pumps, Automation, Paints, Steel Industries, etc.
Other Bars & Rods
Products List
Need Help?
Please Feel Free To Contact Us. We Will Get Back To You With 1-2 Business Days.
sales@sonicsteels.com
+91-9920964999