High Nickel Alloy Perforated Sheets
Leading manufacturer of High Nickel Alloy Perforated Sheets, Inconel Alloy Perforated Sheets Supplier, Monel Alloy Perforated Sheets, Hastelloy Perforated Sheets Stockist, Hot Rolled Inconel Perforated Sheets, Cold Rolled Monel Perforated Sheets, Nickel Alloy 200 Perforated Sheets Exporter
Inconel 601 Perforated Sheets Supplier, Monel 400 Perforated Sheets, Hastelloy C276 Perforated Sheets, Monel K500 Perforated Sheets Stockist, Inconel Alloy 625 Perforated Sheets, 718 Inconel Perforated Sheets Stockholder, C22 Hastelloy Polished Perforated Sheets, Inconel 825 Perforated Sheet Screen, Hastelloy B2 Perforated Sheets Manufacturer
Sonic Steel is a well-known manufacturer, supplier, and exporter of excellent quality High Nickel Alloy Perforated Sheets. We offered these perforated sheets in various types, dimensions and other types of specifications. With the use of modern machinery and high-quality raw material, we manufactured these high nickel alloy perforated sheets and deliver them all over the globe.
Inconel 601/625 Alloy Perforated Sheets are made up of nickel-chromium-iron alloys that exhibit excellent resistance to oxidation & corrosion resistance. Hastelloy C276 Perforated Sheets good creep resistance and can be strengthened by solid-solution hardening and work hardening methods. Apart from this Monel 400 Perforated Sheets have good welding and forming characteristics.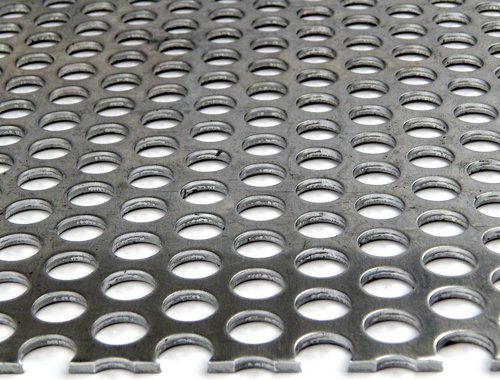 Hastelloy C22/B2 Perforated Sheets offer good strength and ductility. At our manufacturing units, Monel K500 Perforated Sheets are created by punching a number of holes in solid materials. The Inconel 718 Perforated Sheets are typically non-magnetic in nature and can be staggered in parallel diagonal rows. We supplied these perforated sheets in a variety of forms including Polished Inconel 718 Perforated Sheets, Decorative Inconel 825 Perforated Sheets, and more.
These high nickel alloy perforated sheets are well demanded in diverse industries like chemical & food processing, automobile, cement plant, construction, architectural and many. If you don't find what you are looking for? Contact Us now, we also provided customized solutions for perforated sheets at affordable prices.
Latest Price of High Nickel Alloy Perforated Sheets in India, Inconel 601/625 Flat Perforated Sheets, Monel Alloy 400 Perforated Sheets Exporter, Inconel 718 Perforated Sheets in Singapore, 825 Inconel Alloy Perforated Sheets Price, Monel K500 Alloy Perforated Sheets Supplier
High Nickel Alloy Perforated Sheets Specifications:
| | |
| --- | --- |
| Grades | Nickel 200, Nickel 201, Monel 400, Monel K500, Inconel 600, Inconel 601, Inconel 625, Inconel 718, Incoloy 800 / 800H / 800HT, Incoloy 825, Hastelloy C22, Hastelloy C276, Hastelloy B2, Hastelloy B3, Hastelloy X |
| Thickness | 0.3mm – 100mm |
| Width | 100mm – 2500mm |
| Length | AS PER CUSTOMER'S REQUIREMENT |
| Production | Hot-Rolled (HR) / Cold-Rolled (CR) |
| Type of Material | HIGH NICKEL ALLOY SOFT, DEEP DRAW, EXTRA DEEP DRAW, QUARTER HARD, HALF HARD, FULL HARD. |
| Finish | NO.1, 2B, 2D, 2H, 2R, No.4, HAIRLINE, SCOTCH BRITE, SATIN FINISH, NO.8, BA. |
| Make | JINDAL STAINLESS STEEL, BAHRU, POSCO KOREA, POSCO THAINOX, COLUMBUS, ACERINOX, APERAM, TISCO, NISSHIN, NIPPON AND MANY MORE MILLS. |
High Nickel Alloy Perforated Sheets Updated Price List:
Request the latest High Nickel Alloy Perforated Sheets List. Please click on the request a quote button or click here to request the updated price list and ready stock information along with your requirement. Sonic Steel maintains stock of all standard items and can export them at the best price for High Nickel Alloy Perforated Sheets.
Exporting High Nickel Alloy Perforated Sheets to following countries
Afghanistan, Albania, Andorra, Austria, Bahrain, Bangladesh, Bhutan, Brunei, Belarus, Belgium, Bulgaria, Cambodia, China, Cyprus, Croatia, Czech Republic, Denmark, Estonia, Egypt, Finland, France, Germany, Greece, Georgia, Hungary, Iceland, Ireland, Italy, Indonesia, Iran, Iraq, Israel, Japan, Jordan, Kazakhstan, Kuwait, Kyrgyzstan, Lebanon, Latvia, Latin America, Liechtenstein, Lithuania, Luxembourg, Malta, Moldova, Monaco, Malaysia, Maldives, Mongolia, Myanmar (Burma), Nepal, North Korea, Netherlands, Norway, Oman, Poland, Portugal, Pakistan, Palestine, Philippines, Qatar, Russia, Romania, Russia, San Marino, Serbia and Montenegro, Slovakia, Slovenia, Spain, Sweden, Switzerland, Saudi Arabia, Singapore, South Korea, South Africa, Sri Lanka, Syria, Taiwan, Tanzania, Tajikistan, Thailand, Turkey, Turkmenistan, Ukraine, United Kingdom, United Arab Emirates (UAE), Uzbekistan, Vietnam, Yemen
High Nickel Perforated Sheets supplier in the following cities
Mumbai, Delhi, Kolkata, Chennai, Bengaluru, Hyderabad, Ahmadabad, Pune, Surat, Jaipur, Kanpur, Lucknow, Nagpur, Ghaziabad, Indore, Coimbatore, Kochi, Patna, Kozhikode, Bhopal, Thrissur, Vadodara, Agra, Malappuram, Thiruvananthapuram, Kannur, Ludhiana, Nashik, Vijayawada, Madurai, Varanasi, Meerut, Faridabad, Rajkot, Jamshedpur, Srinagar, Jabalpur, Asansol, Vasai Virar City, Allahabad, Dhanbad, Aurangabad, Amritsar, Jodhpur, Ranchi, Raipur, Kollam, Gwalior, Durg-Bhilainagar, Chandigarh, Tiruchirappalli, Kota
Industries and applications where our High Nickel Perforated Sheets is used.
Chemicals, Petrochemicals, Oil & Natural Gas Organization, Fats, Fertilizers, Sugar Mills & Distilleries, Cement Industries, Ship Builders, Paper Industries, Pumps, Automation, Paints, Steel Industries, etc.
Other Perforated Sheets
Products List
Need Help?
Please Feel Free To Contact Us. We Will Get Back To You With 1-2 Business Days.
sales@sonicsteels.com
+91-9920964999