High Nickel Alloy Sheets & Plates
Manufacturer of High Nickel Alloy Sheets & Plates, Inconel Alloy Sheets & Plates Supplier, Monel Alloy Sheets & Plates, Hastelloy Sheets & Plates Stockist, Hot Rolled Inconel Sheets & Plates, Cold Rolled Monel Sheets & Plats, Nickel Alloy 200 Sheets & Plates Exporter
Inconel 601 Perforated Sheets & Plates Supplier, Monel 400 Sheets & Plates Flat Sheet, Hastelloy C276 Sheets & Plates, Monel K500 Sheets & Plates Stockist, Inconel Alloy 625 Sheets & Plates Sheets, 718 Inconel Sheets & Plates Stockholder, C22 Hastelloy Embossed Sheets & Plates, Inconel 825 Decorative Sheets & Plates, Hastelloy B2 Sheets & Plates Manufacturer
Sonic Steel is the most eminent manufacturer, supplier, and exporter of superior quality High Nickel Alloy Sheets and High Nickel Alloy Plates. We offered these sheets & plates in various types, material grades, dimensions, and specifications. To build high-quality products, we use prime quality raw materials supplied by our most trusted vendors in the market.
Inconel 601/625 Sheets & Plates are made up of nickel-chromium-iron based alloys offer high oxidation & corrosion resistance, excellent impact & toughness and high-temperature resistance at cryogenic temperatures. Our state-of-art warehouse consists of the largest inventory of high nickel alloy sheets & plates such as Monel 400 Sheets & Plates, Monel K500 Sheets & Plates, Hastelloy C276 Sheets & Plates, and Hastelloy C22 Plates & Sheets.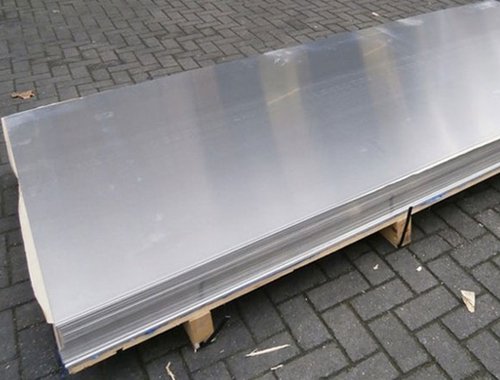 Moreover, these High Nickel alloys Sheets & Plates are widely used in heat exchangers, food & chemical processing, automobiles, fresh & saltwater marine environments, and pharmaceuticals, etc.  We offered these sheets & plates in a variety of forms like Hot Rolled Hastelloy B2 Sheets & Plates, Cold Rolled Inconel 718 Sheets & Plates, and Inconel 825 Alloy Decorative Sheets & Plates, etc.
Our manufacturing unit produced High Nickel Alloy Sheets & Plates according to Indian as well as International standards like ASME, ASTM, ANSI, AISI, BS, IS, etc.  If you want to buy these sheets & Plates then Contact Us today and get high-quality products at reasonable prices.
Latest Price of High Nickel Alloy Sheets & Plates in India, Inconel 601/625 Flat Sheets & Plates, Monel Alloy 400 Sheets & Plates Exporter, Inconel 718 Sheets & Plates in Singapore, 825 Inconel Alloy Sheets & Plates Price, Monel K500 Alloy Sheets & Plates Supplier
High Nickel Alloy Sheets & Plates Specifications:
| | |
| --- | --- |
| Grades | Nickel 200, Nickel 201, Monel 400, Monel K500, Inconel 600, Inconel 601, Inconel 625, Inconel 718, Incoloy 800 / 800H / 800HT, Incoloy 825, Hastelloy C22, Hastelloy C276, Hastelloy B2, Hastelloy B3, Hastelloy X |
| Thickness | 0.3mm – 100mm |
| Width | 1000mm, 1219mm, 1500mm, 1800mm, 2000mm, 2500mm, 3000mm, 3500mm, etc |
| Length | 2000mm, 2440mm, 3000mm, 5800mm, 6000mm, etc |
| Surface | 2B, 2D, BA, NO.1, NO.4, NO.8, 8K, mirror, checkered, embossed, hair line, sand blast, Brush, etching, etc |
| Type of Material | HIGH NICKEL ALLOY SOFT, DEEP DRAW, EXTRA DEEP DRAW, QUARTER HARD, HALF HARD, FULL HARD. |
| Finish | Hot rolled plate (HR), Cold rolled sheet (CR), NO.1, 2B, 2D, 2H, 2R, No.4, HAIRLINE, SCOTCH BRITE, SATIN FINISH, NO.8, BA. |
| Form | Coils, Foils, Rolls, Plain Sheet, Shim Sheet, Perforated Sheet, Chequered Plate, Strip, Flats, Blank (Circle), Ring (Flange), etc. |
| Make | JINDAL STAINLESS STEEL, BAHRU, POSCO KOREA, POSCO THAINOX, COLUMBUS, ACERINOX, APERAM, TISCO, NISSHIN, NIPPON AND MANY MORE MILLS. |
High Nickel Alloy Sheets & Plates Updated Price List:
Request the latest High Nickel Alloy Sheets & Plates List. Please click on the request a quote button or click here to request the updated price list and ready stock information along with your requirement. Sonic Steel maintains stock of all standard items and can export them at the best price for High Nickel Alloy Sheets & Plates.
Exporting High Nickel Alloy Sheets & Plates to following countries
Afghanistan, Albania, Andorra, Austria, Bahrain, Bangladesh, Bhutan, Brunei, Belarus, Belgium, Bulgaria, Cambodia, China, Cyprus, Croatia, Czech Republic, Denmark, Estonia, Egypt, Finland, France, Germany, Greece, Georgia, Hungary, Iceland, Ireland, Italy, Indonesia, Iran, Iraq, Israel, Japan, Jordan, Kazakhstan, Kuwait, Kyrgyzstan, Lebanon, Latvia, Latin America, Liechtenstein, Lithuania, Luxembourg, Malta, Moldova, Monaco, Malaysia, Maldives, Mongolia, Myanmar (Burma), Nepal, North Korea, Netherlands, Norway, Oman, Poland, Portugal, Pakistan, Palestine, Philippines, Qatar, Russia, Romania, Russia, San Marino, Serbia and Montenegro, Slovakia, Slovenia, Spain, Sweden, Switzerland, Saudi Arabia, Singapore, South Korea, South Africa, Sri Lanka, Syria, Taiwan, Tanzania, Tajikistan, Thailand, Turkey, Turkmenistan, Ukraine, United Kingdom, United Arab Emirates (UAE), Uzbekistan, Vietnam, Yemen
High Nickel Sheets & Plates supplier in the following cities
Mumbai, Delhi, Kolkata, Chennai, Bengaluru, Hyderabad, Ahmadabad, Pune, Surat, Jaipur, Kanpur, Lucknow, Nagpur, Ghaziabad, Indore, Coimbatore, Kochi, Patna, Kozhikode, Bhopal, Thrissur, Vadodara, Agra, Malappuram, Thiruvananthapuram, Kannur, Ludhiana, Nashik, Vijayawada, Madurai, Varanasi, Meerut, Faridabad, Rajkot, Jamshedpur, Srinagar, Jabalpur, Asansol, Vasai Virar City, Allahabad, Dhanbad, Aurangabad, Amritsar, Jodhpur, Ranchi, Raipur, Kollam, Gwalior, Durg-Bhilainagar, Chandigarh, Tiruchirappalli, Kota
Industries and applications where our High Nickel Sheets & Plates is used.
Chemicals, Petrochemicals, Oil & Natural Gas Organization, Fats, Fertilizers, Sugar Mills & Distilleries, Cement Industries, Ship Builders, Paper Industries, Pumps, Automation, Paints, Steel Industries, etc.
Other Sheets & Plates
Products List
Need Help?
Please Feel Free To Contact Us. We Will Get Back To You With 1-2 Business Days.
sales@sonicsteels.com
+91-9920964999