316Ti Stainless Steel Coils
ASTM A240 Stainless Steel 316Ti Coils Supplier, Stainless Steel UNS S31635 Coils Manufacturer, Stainless Steel 316Ti Coil, UNS S31635 Stainless Steel Coils, ASTM A167 Stainless Steel 316Ti Coils, Stainless Steel 316Ti Coils, 316Ti Stainless Steel Coils, SS UNS S31635 Coils Exporter
Hot-Rolled Stainless Steel Coils Stockist, Cold Rolled Stainless Steel Coils Exporter, Hot Rolled 316Ti Stainless Steel Coils, Stainless Steel 316Ti Coils manufacturer, Perforated Stainless Steel 316Ti Coils, ASTM A167 316Ti Stainless Steel Coils, Supplier
316Ti Stainless Steel Coils is our most used products that have well-demanded from all around the world. Here at, Sonic Steel, we are manufacturing, supplying and exporting a comprehensive range of Stainless Steel 316Ti Coils which are available in standard as well as customized dimensions depending on client requirement.
Type 316Ti Stainless Steel Coil is austenitic stainless steel has the addition of molybdenum that offers highly stabilized products. However, these coils have excellent corrosion resistance and toughness even at elevated cryogenic temperatures. To improve the hardness of UNS S31635 Stainless Steel Coils are annealed at 1010-1020oC and cool rapidly.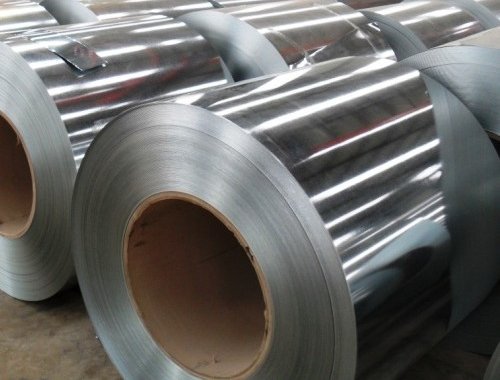 Our comprehensive range of 316Ti SS Coils is available in different types, forms, dimensions, and specifications. We are expertized and specialist in manufacturing Hot Rolled 316Ti Stainless Steel Coils and Cold Rolled 316Ti Stainless Steel Coils. The dedicated logistic team is supplying these high-quality Stainless steel coils to several industries including food processing, shipbuilding, heat exchangers, building materials and chemical proceeding plant.
Furthermore, all the products are produced according to Indian as well as International standards such as ASTM, ASME, AISI, ANSI, BS, IS, DIN, JIS & more. We are famous for our high-grade quality products and deliver them on time at affordable prices. Please Contact Us to get Free quotations.
Stainless Steel 316Ti Coils in Brazil, Stainless Steel Coils in Singapore, Stainless Steel 316Ti 2B Finish Coils Price, Stainless Steel 316Ti Coils Latest Price, Stainless Steel UNS S31635 Coil for Hot Tub, Stainless Steel Finish Coils, Flat Stainless Steel Coils Manufacturer
316Ti Stainless Steel Coil Specifications:
| | |
| --- | --- |
| Grades | Stainless Steel J1, J2, J4, 201, 202, 301, 304, 304H, 304L, 309, 309S, 310, 310S, 316, 316L, 316TI, 321, 321H, 347, 409, 410, 410S, 420, 430, 441, 904L |
| Thickness | 0.02mm – 5.0mm |
| Width | 3.2mm – 1500mm |
| Length | 2000mm, 2440mm, 3000mm, 5800mm, 6000mm, AS PER CUSTOMER'S REQUIREMENT |
| Type of Material | STAINLESS STEEL SOFT, DEEP DRAW, EXTRA DEEP DRAW, QUARTER HARD, HALF HARD, FULL HARD. |
| Form | Coil / Strip |
| Test Certificate | Yes. |
| Finish | NO.1, 2B, 2D, 2H, 2R, No.4, HAIRLINE, SCOTCH BRITE, SATIN FINISH, NO.8, BA. |
| Make | JINDAL, BAHRU, POSCO KOREA, POSCO THAINOX, COLUMBUS, ACERINOX, APERAM, TISCO, NISSHIN, NIPPON AND MANY MORE MILLS. |
Chemical Composition of Stainless Steel 316Ti Coil
Grade
C
Mn
Si
P
S
Cr
Mo
Ni
N
316TI
Min
–
–
–
–
–
16.0
2.00
10.0
–
max
0.08
2
0.75
0.045
0.03
18.0
3.00
14.0
0.1
ASTM A240 SS 316Ti Coil Mechanical Properties
Grade
Tensile Strength (MPa) min
Yield Strength 0.2% Proof (MPa) min
Elongation (% in 50mm) min
Hardness
Rockwell B (HR B) max
Brinell (HB) max
316TI
515
205
35%
75
205
Stainless Steel 316Ti Coil Physical Properties
Physical Properties (Room Temperature)

Specific Heat (0-100°C)

500

J.kg-1.°K-1

Thermal Conductivity

14.6

W.m -1.°K-1

Thermal Expansion

16.5

mm/m/°C

Modulus Elasticity

193

GPa

Electrical Resistivity

7.4

μohm/cm

Density

7.99

g/cm3
Equivalent Grades of 316Ti Stainless Steel Coil
| | | | | | | | |
| --- | --- | --- | --- | --- | --- | --- | --- |
| STANDARD | WERKSTOFF NR. | UNS | JIS | AFNOR | BS | GOST | EN |
| SS 316TI | 1.4571 | S31635 | SUS 316Ti | Z6CNDT17‐12 | 320S31 | 08Ch17N13M2T | X6CrNiMoTi17-12-2 |
Stainless Steel 316Ti Coils Updated Price List:
Request the latest 316Ti Stainless Steel Coils List. Please click on the request a quote button or click here to request the updated price list and ready stock information along with your requirement. Sonic Steel maintains stock of all standard items and can export them at the best price for Stainless Steel 316Ti Coils.
Exporting 316Ti Stainless Steel Coils to following countries
Afghanistan, Albania, Andorra, Austria, Bahrain, Bangladesh, Bhutan, Brunei, Belarus, Belgium, Bulgaria, Cambodia, China, Cyprus, Croatia, Czech Republic, Denmark, Estonia, Egypt, Finland, France, Germany, Greece, Georgia, Hungary, Iceland, Ireland, Italy, Indonesia, Iran, Iraq, Israel, Japan, Jordan, Kazakhstan, Kuwait, Kyrgyzstan, Lebanon, Latvia, Latin America, Liechtenstein, Lithuania, Luxembourg, Malta, Moldova, Monaco, Malaysia, Maldives, Mongolia, Myanmar (Burma), Nepal, North Korea, Netherlands, Norway, Oman, Poland, Portugal, Pakistan, Palestine, Philippines, Qatar, Russia, Romania, Russia, San Marino, Serbia and Montenegro, Slovakia, Slovenia, Spain, Sweden, Switzerland, Saudi Arabia, Singapore, South Korea, South Africa, Sri Lanka, Syria, Taiwan, Tanzania, Tajikistan, Thailand, Turkey, Turkmenistan, Ukraine, United Kingdom, United Arab Emirates (UAE), Uzbekistan, Vietnam, Yemen
SS 316Ti Coil supplier in the following cities
Mumbai, Delhi, Kolkata, Chennai, Bengaluru, Hyderabad, Ahmadabad, Pune, Surat, Jaipur, Kanpur, Lucknow, Nagpur, Ghaziabad, Indore, Coimbatore, Kochi, Patna, Kozhikode, Bhopal, Thrissur, Vadodara, Agra, Malappuram, Thiruvananthapuram, Kannur, Ludhiana, Nashik, Vijayawada, Madurai, Varanasi, Meerut, Faridabad, Rajkot, Jamshedpur, Srinagar, Jabalpur, Asansol, Vasai Virar City, Allahabad, Dhanbad, Aurangabad, Amritsar, Jodhpur, Ranchi, Raipur, Kollam, Gwalior, Durg-Bhilainagar, Chandigarh, Tiruchirappalli, Kota
Industries and applications where our 316Ti SS Coil is used.
Chemicals, Petrochemicals, Oil & Natural Gas Organization, Fats, Fertilizers, Sugar Mills & Distilleries, Cement Industries, Ship Builders, Paper Industries, Pumps, Automation, Paints, Steel Industries, etc.
S.S. Coil Grades
Products List
Need Help?
Please Feel Free To Contact Us. We Will Get Back To You With 1-2 Business Days.
sales@sonicsteels.com
+91-9920964999