J1/J2/J4 Stainless Steel Shims
Most Eminent ASTM A276 Stainless Steel J1 Shim Supplier, Stainless Steel J2 Shim Manufacturer, Stainless Steel J4 Strip, J1 Stainless Steel Shim, ASTM A276 Stainless Steel J2 Shim, Stainless Steel J4 Shim, 904L Stainless Steel Shim, SS J4-16Cr Shim Exporter
Hot Rolled Stainless Steel J1 Shims Exporter, Cold Rolled Stainless Steel J1/J4 Shims Stockist, Stainless Steel J1/J2/J4 Mirror Polish Shim, Stainless Steel J1/J2Shim Sheet, Stainless Steel J2/J4 Shin Plate Manufacturer, SS J2 Shim Roll, J4 SS Shim Exporter in India
Sonic Steel holds the largest stock of multiple varieties of J1/J2 & J4 Stainless Steel Shim. Using modern equipment and technology, we are producing and delivering an exclusive range of Stainless Steel Shim that are used in several industries including oil refineries, heat exchangers, boiler industries, shipbuilding, marine, and pharmaceuticals, etc.
Grade J1, J2 & J4 Stainless Steel Shim are best suitable for replacing chromium-nickel grades such as 310, 316, and 321 in most of today's applications. The J1 & J2 Stainless Steel Shim contain low-cost manganese, nitrogen, and copper, which make them highly economical and reliable. Moreover, Stainless Steel J4 Shim have high mechanical and temperature strength depending on the degree of cold working done on them.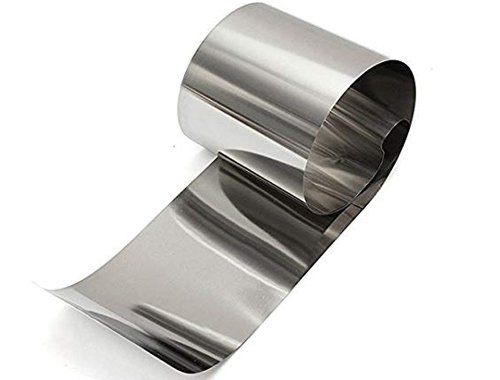 Stainless Steel J1 Shim have a small copper percentage that reduces the work hardening rate. However, these SS Shim are best suitable for structural applications. Apart from this, Stainless Steel J2 Shim offer excellent strength and high formability & weldability due to manganese. Our largest stock contains Hot Rolled J4 Stainless Steel Shim and Cold Rolled J1 & J2 Stainless Steel Shim.
The offered SS J1/J2/J4 Shim is available in Indian as well as International standards like ASTM, AISI, ANSI, ASME, BS, IS, DIN & JIS, etc. If you are looking to buy these Stainless Steel Shim then Contact Us Now with your requirements. Our experts will help you to choose the perfect product for your applications.
Stainless Steel J1/J2 Shim in Australia, Stainless Steel Shims in the UK, Stainless Steel J2/J4 Shims in Europe Price, Stainless Steel J4 Shim Latest Price, Stainless Steel J2 Diamond Shim, SS J1 Decorative Shims Supplier
J1/J2/J4 Stainless Steel Shim Specifications:
| | |
| --- | --- |
| Grades | Stainless Steel J1, J2, J4, 201, 202, 301, 304, 304H, 304L, 309, 309S, 310, 310S, 316, 316L, 316TI, 321, 321H, 347, 409, 410, 410S, 420, 430, 441, 904L |
| Thickness | 0.02mm – 5.0mm |
| Width | 3.2mm – 1500mm |
| Length | AS PER CUSTOMER'S REQUIREMENT |
| Type of Material | STAINLESS STEEL SOFT, DEEP DRAW, EXTRA DEEP DRAW, QUARTER HARD, HALF HARD, FULL HARD. |
| Finish | NO.1, 2B, 2D, 2H, 2R, No.4, HAIRLINE, SCOTCH BRITE, SATIN FINISH, NO.8, BA. |
| Make | JINDAL, BAHRU, POSCO KOREA, POSCO THAINOX, COLUMBUS, ACERINOX, APERAM, TISCO, NISSHIN, NIPPON AND MANY MORE MILLS. |
Stainless Steel J1/J2/J4 Shims Updated Price List:
Request the latest J1/J2/J4 Stainless Steel Shims List. Please click on the request a quote button or click here to request the updated price list and ready stock information along with your requirement. Sonic Steel maintains stock of all standard items and can export them at the best price for Stainless Steel J1/J2/J4 Shims.
Exporting J1/J2/J4 Stainless Steel Shims to following countries
Afghanistan, Albania, Andorra, Austria, Bahrain, Bangladesh, Bhutan, Brunei, Belarus, Belgium, Bulgaria, Cambodia, China, Cyprus, Croatia, Czech Republic, Denmark, Estonia, Egypt, Finland, France, Germany, Greece, Georgia, Hungary, Iceland, Ireland, Italy, Indonesia, Iran, Iraq, Israel, Japan, Jordan, Kazakhstan, Kuwait, Kyrgyzstan, Lebanon, Latvia, Latin America, Liechtenstein, Lithuania, Luxembourg, Malta, Moldova, Monaco, Malaysia, Maldives, Mongolia, Myanmar (Burma), Nepal, North Korea, Netherlands, Norway, Oman, Poland, Portugal, Pakistan, Palestine, Philippines, Qatar, Russia, Romania, Russia, San Marino, Serbia and Montenegro, Slovakia, Slovenia, Spain, Sweden, Switzerland, Saudi Arabia, Singapore, South Korea, South Africa, Sri Lanka, Syria, Taiwan, Tanzania, Tajikistan, Thailand, Turkey, Turkmenistan, Ukraine, United Kingdom, United Arab Emirates (UAE), Uzbekistan, Vietnam, Yemen
SS J1/J2/J4 Shim supplier in the following cities
Mumbai, Delhi, Kolkata, Chennai, Bengaluru, Hyderabad, Ahmadabad, Pune, Surat, Jaipur, Kanpur, Lucknow, Nagpur, Ghaziabad, Indore, Coimbatore, Kochi, Patna, Kozhikode, Bhopal, Thrissur, Vadodara, Agra, Malappuram, Thiruvananthapuram, Kannur, Ludhiana, Nashik, Vijayawada, Madurai, Varanasi, Meerut, Faridabad, Rajkot, Jamshedpur, Srinagar, Jabalpur, Asansol, Vasai Virar City, Allahabad, Dhanbad, Aurangabad, Amritsar, Jodhpur, Ranchi, Raipur, Kollam, Gwalior, Durg-Bhilainagar, Chandigarh, Tiruchirappalli, Kota
Industries and applications where our J1/J2/J4 SS Shim is used.
Chemicals, Petrochemicals, Oil & Natural Gas Organization, Fats, Fertilizers, Sugar Mills & Distilleries, Cement Industries, Ship Builders, Paper Industries, Pumps, Automation, Paints, Steel Industries, etc.
S.S. Shim Grades
Products List
Need Help?
Please Feel Free To Contact Us. We Will Get Back To You With 1-2 Business Days.
sales@sonicsteels.com
+91-9920964999